Minnesota-made bean-to-bar organic chocolate bars!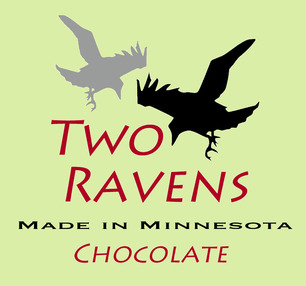 There's a new ancient thing going on, right here at Two Ravens Chocolate.
Wait, what?
That's right: New and ancient. We're making chocolate from scratch. We're not buying chocolate made at a big factory in Europe or somewhere else and simply molding it. We're starting with the cacao beans. The way the Aztecs did, and the Incas. And just maybe we're using the same beans, because we source only certified organic and certified fair-trade cacao from Central and South America, the birthplace of chocolate.
From bean to bar, we do it all, in small batches. We select the beans, the cocoa butter, the pure cane sugar, and meld them carefully into what we hope will be the highest quality and most satisfying chocolate you can find, bar none, pardon the pun. It's a long and careful process, but we think you'll agree the results make it worthwhile.
We take no shortcuts, and we allow no compromise.
One example of that: Nearly all chocolate makers, even many of the most prestigious, use a thing called soy lecithin in their chocolate. It's a byproduct of the manufacture of soybean oil, itself a byproduct. It's used in chocolate to affect the texture – what's called an emulsifier. It's not essential, but it is cost-effective and convenient. There's none of that in any product from our shop, ever. We use three ingredients to make chocolate: Cacao beans, cocoa butter, and cane sugar.
Our bean-to-bar factory is located in St. Paul, Minnesota. We've found a home in what is known colloquially as "The Old Hamm's Brewery" on the near East Side. (Today the place is called the Everest Arts and Science Building.) Visitors are welcome, but please call ahead to make sure we're able to accommodate!
– Randall Johnson
Chocolatier,
Two Ravens Chocolate
---
Contact Us