Two Ravens 60% Dark Chocolate Bar
Made with Certified Organic and Certified Fair-Trade Peruvian Criollo Cacao
There are three major varieties of cacao bean used to produce all the world's chocolate. Of those, Criollo is by far the rarest. It comprises between one and five percent of the total harvest, depending upon whom you ask.

That's because it is difficult to grow, low-yield and, well, ancient. We sought it out for its distinctive flavors, which in our chocolate come forward as dark cherry and raspberry. We swear, there's no touch of fruit in this bar, though you may have trouble believing it.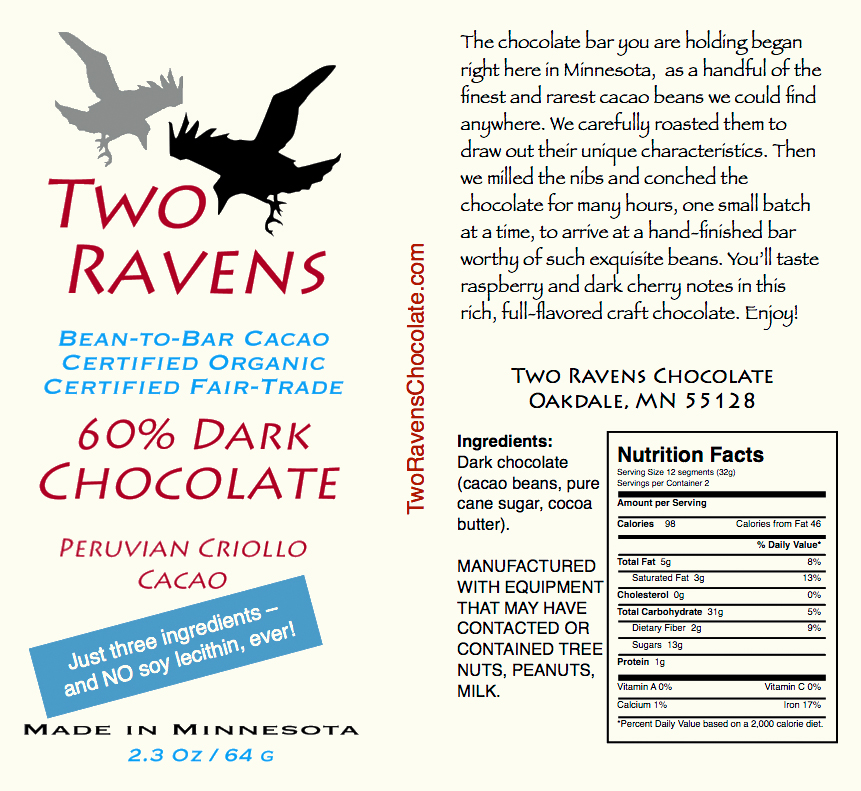 ---
Two Ravens 64% Dark Chocolate with Cranberries
Made with Certified Organic and Certified Fair-Trade Peruvian Criollo Cacao
The chocolate we get from these great Criollo beans is so fruity, we let it do the talking. And it said "Let's build on that delicious tangy fruit flavor!" Cranberries seemed like a perfect fit. We made the chocolate just a touch darker to compliment the sweetness of the fruit.

The berries add a chewy texture to the crisp snap of pure chocolate, and of course a jolt of their own flavor. It's an exquisite taste experience worthy of this superb cacao.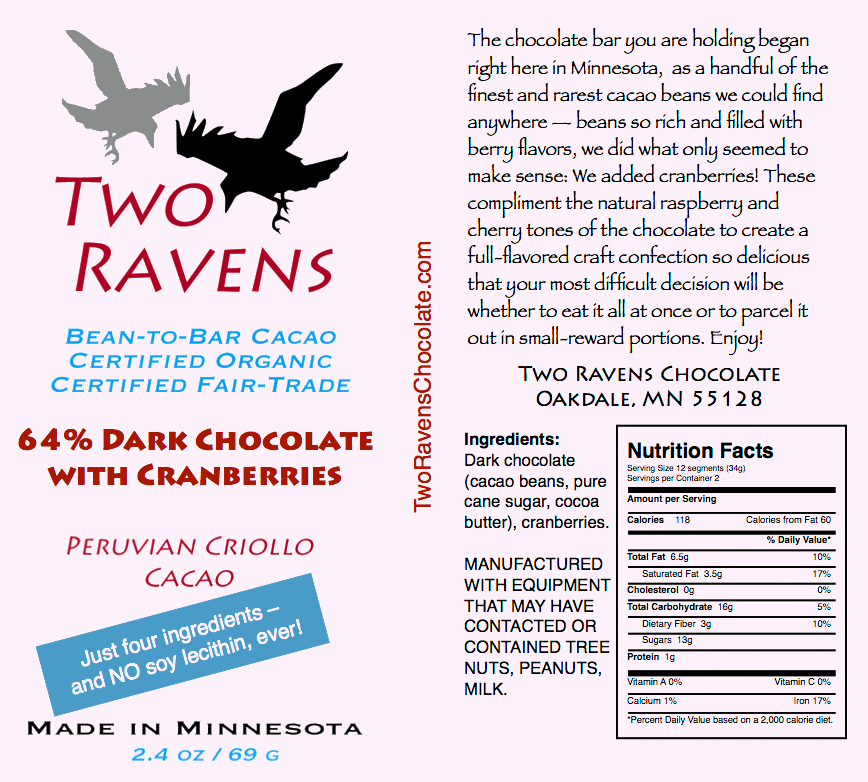 ---
Two Ravens Milk Chocolate with Natural Madagascar Vanilla
Made with Certified Organic and Certified Fair-trade Peruvian Criollo Cacao

We're not sure what mysterious candy cabal declared that the world's finest chocolates should ignore the lovers of lighter flavors, but we're flying in the face of that. Criollo beans, we reaseoned, will lend their distinctive character to a milk chocolate as readily as to a dark bar. And it's so, so true!

The Two Ravens milk chocolate bar still has that snap of fine chocolate, and the cocoa's berry notes still play, but the bar is sweet and creamy. Its real Madagascar vanilla presents as rich marshmallow flavor. It's gourmet hot chocolate you can hold in your hand.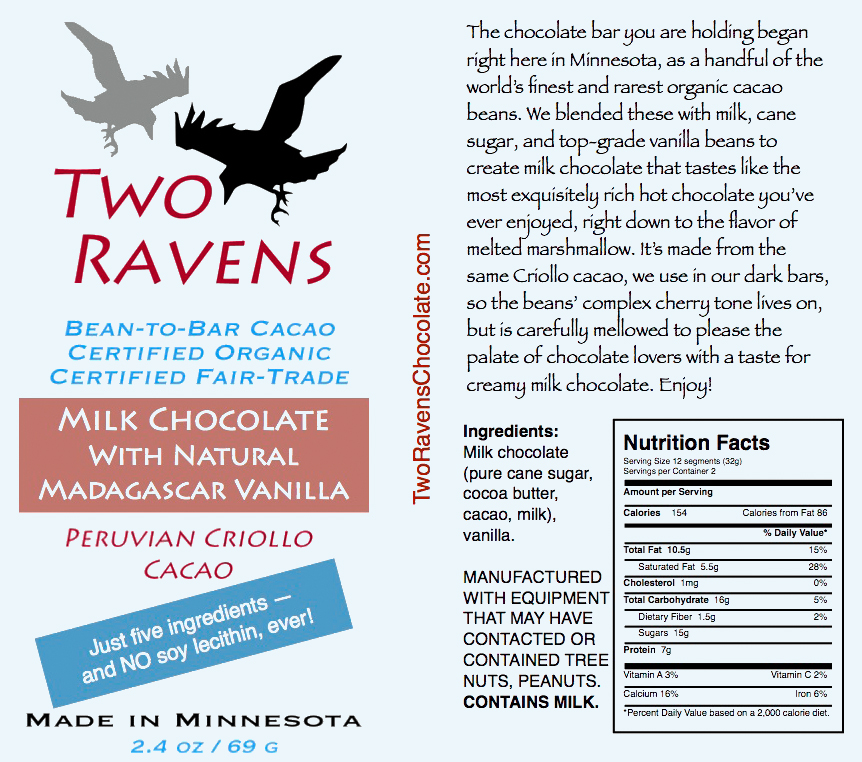 ---
Hopstopper Black IPA Chocolate Bites
60% Dark Chocolate with brewers' hops added to create a craft-brewed flavor
We at Two Ravens have a long history as home-brewers and lovers of great beer. Naturally, that's led us to explore ways to merge the complex flavors of great cacao and those of great brews. As unlikely as that may sound, we found the answer: Hopped chocolate.

We melange select brewers' hops, chosen for their high-impact yet fruity essences, with our fine organic Peruvian beans to create a bite of chocolate like nothing you've experienced. It pairs well with beer of all kinds; even substitutes for it, some say.

We knew beer lovers – particularly those who call themselves hop-heads – would love the stuff. What we didn't expect was that even people who claim not to like beer keep coming around for more. They're made in bite-sized portions so you can enjoy one or two pieces at a time. Pass them around at your next gathering to create a buzz that's completely alcohol-free!

Contact us for availability: Randall@TwoRavensChocolate.com